Earlier tonight the Nuggets beat the 76ers in Denver 109-96. Allen Iverson was his usual, brilliant self: 38 points, eight dimes, and back-to-back three-pointers to break a 62-all tie in the third.
Afterward, AI had some nice things to say about the Philadelphia organization.
Here are his quotes, courtesy of the AP, and what he was really thinking when he said them.
"I'm just happy we got the win. Like I said, it's just another basketball game, we went through that whole song and dance last year when they came in here. It wasn't any big deal to me. I just wanted to contribute."
I'd a rather eat a dead dog's ass than lose to these bitches like we did last ye
ar after I got traded. I told Melo I was bouts ta stick my dick AND a couple logs a summer sausage right up LaLa's ass if he ain't came through. Buncha Macarena-lovin' muthafuckers. Shit, I'm the fucking Charleston, Mashed Potato and the Twist up in this mafuck.
"They've got a lot of talent on that team. They've got a lot of guys that can do things, and they've got a lot of guys that care, guys with pride."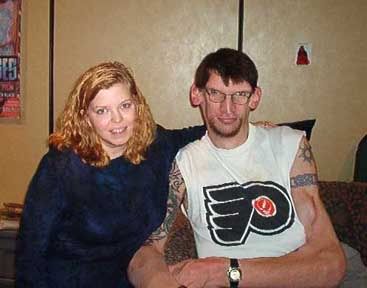 Yeah, guys that can do things - like Reggie Evans, that ball-grabbing queerb
ag. A
nd have you seen Calvin Booth? Bitch look like a black version of the deformed giant in
Big Fish.
Shit, at least they got rid of that Ashton Kutcher-lookin' mafucker. But, yeah, those Sixers got some pride - they proud to be the only team in the league dumb enough to think Shavlik Randolph can ball.
"I'm pretty sure they want to prove they can win without me."
They fired Billy King, right?
"It could be easy for those guys to lay down. After I left, they could have just laid down."
They gettin' fucked either way. Layin' down, standing up, bent over the scorer's table - shit, you name it, they gettin' filled up like Kim Kardashian at the Saints' Christmas party.


"I just wish them well. ... I just want to see things get better for them."
HAHAHAHAHAHAHAHAHAHAHAHAHAHAHAHAHAHAHAHAHAHAHA! Blow me 76 times, bitches.

Shit, I gotta run. I TiVo'd the season premiere of The Wire. Omar's my boy! ... You say he's what? Fa real? Ahh, fuck him then. It's all about Snoop! ... No shit? Snoop is a she? Muthafucka!