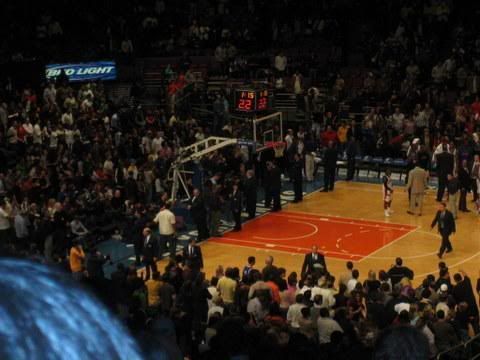 There are always sporting events that you've attended in your life that you remember fondly.
The best football game I've ever seen was a game that my Colorado State Rams
lost
44-40. That may not sound impressive, but when Air Force and CSU rack up over 1,000 yards of offense in conditions that would've made penguins beg for some Jack Daniels and hot chocolate, you don't care in the long run if your team emerged victorious or not. You're just happy you saw something special.
Usually, though, the games that end up sticking around in the cobwebs of your memory are the ones where your team wins a big game, makes a big comeback, or your favorite player does something to rock your world.
Or, as was the case Saturday night, a big-ass freaking brawl breaks out.
That's not the greatest picture ever, but it's here because it's authentic. It was taken by my friend Kelly during the fracas, and while she was busy snapping pictures, I was busy spilling my beer on myself and screaming for Carmelo to go all Avon Barksdale on some dudes.
Thing is, I didn't think he'd
actually
do it.
Ok, so, here's what happ- well, I'll just let Nate Robinson explain.
From what they did, keeping their guys on the court, I knew a foul was going to come. It was a good, clean, hard foul, and after that things went down from there. I've never seen a team up 20 keep their starters in. They wanted to embarrass us, and it was a slap in the face to us as a team and a franchise.
Umm, Mr. Robinson, you think
this
was a "good, clean, hard foul"? Oh, wait, you also think you're an elite-level point guard, too? And, as so many have pointed out over the last few days, didn't you try a highlight-reel dunk on a breakaway against the Cavaliers a little while back and BLOW IT? Oh, you did? And that's not trying to "embarrass" someone? Hey, Nate -
SHUT THE HELL UP YOU STUPID FUCKING MIDGET.
You should love the Nuggets because we gave the world Chris Andersen in the dunk contest (even though he was with the Hornets at the time), whose atrocious display is the only thing keeping your 2006 Dunk Championship debacle from being remembered as the worst thing to happen to the dunk since Shawn Bradley.
And as far as Robinson and Isiah Thomas's comments that the Nuggets were running up the score:
YOU'RE GODDAMN RIGHT THEY WERE.
George Karl does not like you, Isiah. That much is obvious. But how about ten days before this game, where the Nuggets blew a 17-point lead in the fourth quarter
at home
against the Hawks? Or how about something that nobody's talked about - the fact that the night before this game, Carmelo dropped 42 on the Celtics and Denver still lost? That does not make a team happy. Those things - a coach loathing the coach of the team he's about to play the day after losing to a shitty team when his star has a huge game - contribute to a man wanting to put his foot down on your throat and press hard.
Most coaches would realize this. They would whip their teams into a frenzy and say, "This squatty John Lithgow-lookin' motherfucker does not like me OR my organization-running skills, he doesn't respect the fact that I grew up poor in Chicago and he's going to tell his team to come into our house and whup your ass." And if those players had even the smallest amount of respect for their coach, they would get out there and go after it.
But they didn't. The Knicks weren't good enough to stop the other team, and it resulted in an ugly, consequence-heavy fight.
I remember thinking that 'Melo would get three, maybe even five games. But then I saw the punch again, saw how it came right when the whole thing was dying down, and knew it would be a lot worse.
You know what? He'll do his fifteen, come back in January, go right back to leading the league in scoring, get his first All-Star nod, and (hopefully) lead the Nuggets back to the playoffs. But Kid Napoleon Dynamite, Isiah and the rest of the Knicks? They'll still be claiming games with 3,000 empty seats are "sold-out," they'll still be getting their asses run out of their own building, and they'll still be pointing the finger at everyone but themselves.
And then Isiah Thomas and Matt Millen will go back to Hell and resume serving Satan his Daquiris.