Fuck you,
Shawne Merriman
. Fuck you, Philip Rivers. Fuck you,
Norv Turner
. Fuck you, Herm Edwards. Fuck you, Larry Johnson. Fuck you,
the high school kid who coaches the Raiders
and whatever
dishwashers/heroin addicts/pregnant mothers/Too $hort cover artists/jizz moppers
are currently dressed and/or employed as players. Fuck all y'all. We're pissed off. Hungry. Thirsty - for fucking
blood.
Whether it comes from your jugular, your carotid artery, or in spasmodic menstrual squirts from your bloated, puffy, vaginal slits of shame, we will take it and toast to the festering piles of your decapitated corpses.
The Broncos ride tonight.
Are you prepared for: Lost & Found with the Denver Broncos?
This week: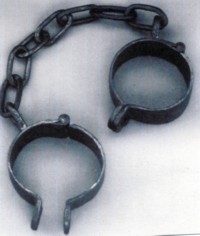 Shackles.
These were found just outside the home locker room at Mile High the second, at about 8:25 pm Monday. Art Pleeson, a stadium security guard, happened upon them ... and heard a mighty shriek, which turned his pubic hairs white and chilled his blood to near-devastating temperatures. After a cup of coffee and a Camel Light, however, he was fine.
So, in closing, fuck
apathy
. And
bullshit
. No, tonight felt a bit more like it's
supposed
to: Good.