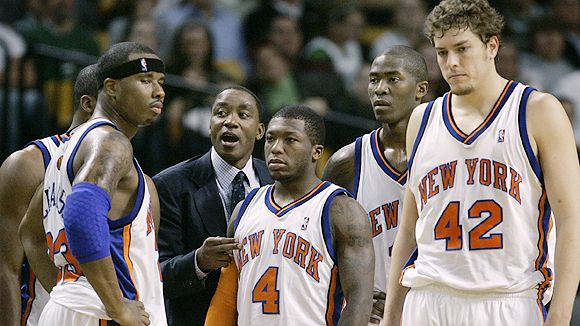 After something as terrible as the Sean Taylor fiasco, I usually try to stay away from televised sports for at least a week due to the inanity of discussion. Championship Curling could be on, and the announcers would find a way to talk about the tragedy. Apparently, as if on cue, Dick Vitale mentioned it in the same breath as how great the Barber family is in the NFL during a Duke basketball game. Why do I need to know that Dicky V thinks this is a terrible occurrence? Why are people so intent on getting their thoughts on the matter out?
I violated my rule last night, however, to watch the most important game of the young basketball season. I started the night by drinking heavily-- a favorite pastime of mine-- and talking up the NBA with a good buddy of mine. Then, I took some preparation shots. Little did I know that I was about to watch the
rout
of the century. I needed release, I needed therapy. I needed to shout happily for a couple of hours. I got all that and more. I laughed joyously at the miserable dredges of offense the Knickerbockers trotted out. I watched the "Big 3" cheering on their teammates while they were up by 47 points. By the end, I realized that this was the best game I have watched. It was as if the Celtics felt my crestfallen cries and walloped one of my least favorite franchises to quell my ill-temper.
As untrue as that last statement surely is, I do feel better as a fan and ultimately as a person. Watching a systematic dismantling like that-- even Scalabrine got 3 points in this one-- brings out the worst kind of person in me. It's the only time I will ever gloat. Usually, this is the time to tell the couple next to you that Isiah will get fired, Marbury will be gone soon or some such other positive idea. Instead, I was yelling, "This is the single worst showing I have ever seen in the NBA." Instead, I was yelling, "Oh shit, Scalabrine. AND... THE... FOUL." Instead, I laughed egregiously-- up
roar
iously-- bellied up to the bar, the wind now whipping furiously onto my once-sagging sails.
I'll admit it-- I wanted a 50-point win-- and was upset when Nate Robinson hit a circus shot to save the Knicks from ther worst offensive output ever. I will not, however, admit, that
I was wrong for doing so. The nature of a fan in recovery is to look for the positive. Last night's game was nothing but positive, and the picture above this article proves it. I may have been in my worst mode, but it was at the best time. Such is the nature of sport-- and the nature of a fan in need. Thank you, Boston Celtics. Thank you.
(EDIT: Two great things about that line score: Mardy Collins being a DNP-Coach's Decision-- is that the only decision he made all night?-- and the fact that Nate Robinson's buzzer beater meant he was the only Knickerbocker in double figures. Wow.)