Guess what? Here's another useless feature that we will try to run on a regular basis, but will probably abandon in a few short weeks. Yay! Every week, Phony Gwynn will recap the recent edition of Sports Illustrated, so you don't have to read it. Doesn't that sound awesome? This one is aided by a glass of White Horse scotch. White Horse: it's the bar where Dylan Thomas drank himself to death, so the scotch must be good, right?
I decided to start this after last week's Sports Illustrated pissed me off. Like many people, I loved SI back in its heyday - when a plethora of excellent writers pounded out interesting, must-read articles. Then ESPN the Magazine came on the scene, and SI decided to keep up - in a bad way. Anyway, last week I came home and saw Josh Hamilton on the cover. Sweet! I thought. A perfect vehicle for an epic Gary Smith piece!
Uh ... no.
Rather, we see Albert Chen's trite, color-by-numbers version of this epic tale. Instead of Smith writing in the first person, penning italicized lines about Hamilton bringing a crack pipe to his lips like Pookie in New Jack City, and harrowing recreations of 4 a.m. booze binges, we get a three-page snooze-fest that turned one of the most incredible stories in sports into an afterschool special. The man's got fire tattooed on his forearms and now he loves Jebus, and all I get is an AP-esque rehash?
Boo.
So now it's time to break this skull open, and feast on the goo inside.
The Cover:
More Lakers-Celtics love, with a film still of Magic and Bird battling for position for a rebound. The caption on the side says Lakers 109, Celtics 102 in Game Two of the NBA Finals. But what year? We're not all John Hollinger here, you know. And, hey - a hockey sighting! It's on a tiny banner in the lower right-hand corner, but still - hockey!
The Vault:
Again, more Lakers V Celtics lore: in a February, 1963 game we learn from William Leggett that Elgin Baylor, after seeing some Celtics begin to warm up, "unbuttoned his magnificent raglan overcoat with the red lining, took a penny from his pocket and tossed it at the Celtics - the gesture that bored customers once used to drive bad vaudeville acts off the stage. Baylor then turned and walked to his dressing room with a confident smile on his face." Two questions here: 1) What the fuck is raglan? 2) Why the fuck doesn't stuff like this happen now?
L
eading Off:
The final picture is of some Chinese children at a refugee camp playing a makeshift game of ping-pong. Hey, sports cures all ills! Fuck an earthquake - we got paddles!
Letters:
"I can't thank you enough for the unexpected picture of Bob Uecker in bathing trunks. I still haven't read the article, which I believe had to do with the Brewers. All I can see is Bob in his trunks." - Dianne Smith, Walling, Tenn.
Dear Dianne: here's a cataract milkshake. Please drink it down.
Hot/Not:
In this issue, Kimbo Slice is both Hot
and
Not. Ooh! On the Hot side, SI calls Slice "the kindred soul to Clubber Lang." Aside from being black and having interesting hair patterns, I see absolutely no resemblance. My prediction? Pain ... ful analogy.
For the Record:
Tony Stewart donates his pet monkey, Mojo, to the Louisville Zoo. I hate NASCAR, but Tony Stewart having a pet monkey named Mojo is 87 kinds of awesome. Pray for him.
Go Figure:
Gary Payton recently said on
The Best Damn Sports Show Period
that he'd have a sex change operation and play in the WNBA for $100 million. Gary Payton ... sex change ... period ... night tremors ... uncontrollable vomiting ... Shawn Kemp showing up with a six-pack of Heineken and a box of Magnums ...
First Person:
Detroit Shock point guard Deanna Nolan reveals that she has four dogs named Duke Cooper, Austin Bailey, Dallas Austin, and Jasmine Nicole. This interview also reveals that Deanna Nolan has zero fucking personality.
Pop Culture Grid:
For the "Concert you're dying to see this summer" question, Giants pitcher Tim Lincecum admits that he's never been to a concert, and Twins second baseman Brendan Har
ris reveals that he wants to see Bon Jovi. I don't know how you did it, but you both won the coveted "Lamest Fucking Answer Imaginable" award. Congratulations!
The
Beat:
Phil Mickelson says that he spent two days shooting scenes for Entourage. Finally, Turtle gets some titty!
Just My Type:
This is Dan Patrick's column, which he started after Rick Reilly left. Generally I like it, because he features a candid interview on the left side, and humorous and/or insightful tidbits, facts or suggestions on the right. On the bottom, there's a "Fine Print" line, which is usually a joke. This week: "Did you see that Cal Ripken is a special envoy to the State Department? And Tony Gwynn is a special ambassador to International House of Pancakes." Hardy-har-har, Danny. Everyone knows he's a Denny's man. (Because they don't serve black people there, see.)
Articles:
1) Jack McCallum's knob-slobbing suckfest of the great Lakers-Celtics series of the past. Yeah, we get it. This one will be epic. Babies will be born because of it. Stuart Scott will introduce a new phrase into the lexicon that will make him look even more absurd (that's not a bad thing, actually).
2) An interesting piece on baseball in Alaska, and the midnight games played there during the summer solstice. Summer solstice? I thought Derek Jeter was banging her? There's a fold-out map of a marathon minor-league romp, which conveniently avoids Colorado. No Colorado Springs Sky Sox? Crazy Christians and high altitudes - what more could you want?
3) A story about the Red Wings. Fuck the Red Wings. Brutally. With rabid wolves. And barbed wire.
4) New Oregon State men's basketball coach Craig Robinson is profiled. Why? Well, he's Sen. Barack Obama's brother-in-law! It's time for a change! Change we can believe in! Aww, fuck it - the Beavers will still blow.
5) Tim Layden breaks down Jamaican Usain Bolt's obliteration of the 100M record. But only because the Olympics are in two months.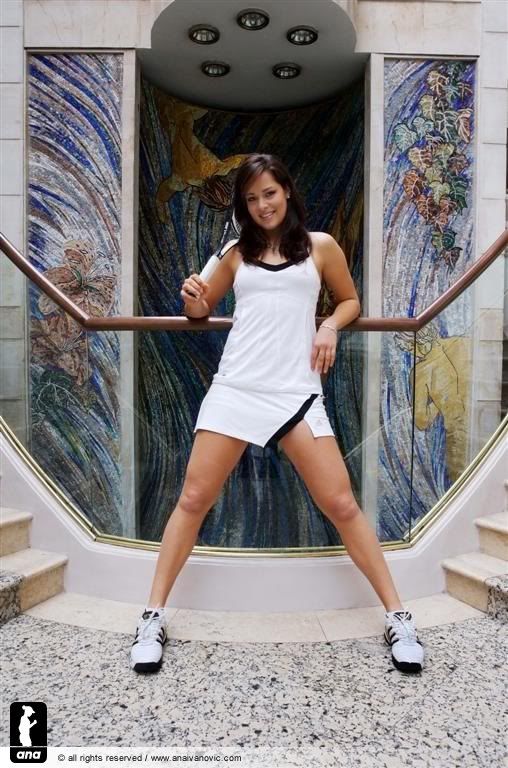 6) Alan Shipnuck delves into the Mexican-y depths of top female golfer Lorena Ochoa. I haven't read this yet (like some of the last few articles - try to guess which ones! I think you'll be pleasantly surprised), but I will as soon as I can't sleep.
Inside:
There is a two-page spread of Ana Ivanovic, and, I'll be honest - I don't feel like typing right now.
Point After:
Chris Ballard details the struggles of the National Basketball Association of Afghanistan, and their attempts to revive a once-proud portion of their national identity. I've always liked Ballard, and this is an interesting little read - informative, grounding, provocative. Precisely what the back of the book should be.
(Ed. note: The Vonnegut quote above is what he wrote down for SI in the late 50s after his first assignment for them. He then promptly left the magazine. Again, classic.)