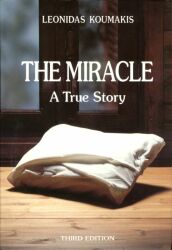 I have no idea what this book is about, or what the "Miracle" is. But after last night's events, it seemed appropriate.
The Dodgers of Los Angeles, a team with about as much power as a 20-year-old lawnmower, decided to hit four homers in a row in the ninth inning and then, for good measure, hit a two-run walkoff to win it in the 10th.
This hurts for two reasons:
1) No team had hit four consecutive homers in the same inning since 1964 (and
definitely
not in the ninth inning to tie the game) and,
2) They only
tied
it in the ninth. So the fact that No-more hit a two-run jack job to win it means that THE PADRES SCORED TO GO AHEAD IN THE 10th.
Now, nobody wants to give up four straight bombs in the ninth. But wouldn't it have been nice to come right back, score, and then win? A nice little, "Hey, good show there and all, but we're taking 3 of 4 and a 1.5 game lead with us. Buh-bye."
Nope.
That hulking, heavy sound behind you? That's Ryan Howard and the Phillies. They are coming.