In honor of the awesome, Earth-shattering, cataclysmic, historic game between North Carolina and Duke tonight, as well as previously-rolling and 15th-ranked Air Force's
ass-whupping
at the hands of a decent San Diego State team, I'm reminded of a fun assignment I had in college, oh, about 73 years ago.
For a magazine writing class, or a news writing class (hey - do you remember stuff like that from col
lege? Didn't think so) we were given an open-ended assignment. Basically, come up with your own story, and interview a national media member.
Oh boy.
I had covered the men's basketball team at Colorado State, and I was curious as to why Colorado schools had never really done much in the NCAA Basketball Tournament. There were three Division-1 schools; surely, at some point, one of them should have been good enough to make a deep run, right?
So I called up ESPN hoping to have Dick Vitale's verbal stylings turn my brain into applesauce, only to be told that he was unavailable.
Damn.
Instead I got to chat with Jay Bilas who, to my immediate and scared-shitless surprise, did not mention Duke once. I told him that this was just an assignment for a class and wouldn't be published anywhere, but he seemed so intrigued by the question that we talked for a good 30 to 45 minutes.
The question? Why do Colorado college teams suck so bad at hoops?
Of course, I never got a definitive answer. How can you sum up hundreds of seasons of futility? You can't. Bilas tried, though, and he was very candid, talking about the high school players in the state, the programs' commitments to football, lack of quality coaching, etc. He also mentioned that plenty of other states are in a similar situation.
That conversation was a good seven or eight years ago. Things haven't changed much. Lets take a quick peek at the three schools, and their situations.


AIR FORCE (20-4, 7-3 T-2nd MWC)
: Well, their tournament history has pretty much come in the last
few years
, and obviously they're on the way up with former Denver Nuggets coach Jeff Bzdelik at the helm. But one of Bilas's main points about Air Force is that it's hard to recruit tall, athletic players to a service school. Bzdelik may get his team to do the little things right, but in the Tourney you need talent. Plain and simple.
COLORADO STATE (14-8, 4-6 T-5th MWC)
: When your school's basketball history mainly consists of the fact that
this
movie was shot there, well, that's just not epic, you know? When I left, Ritchie McKay had just
bolted for Oregon State
, and after a few years there he rolled on to New Mexico. Dale Layer has presented some stability, and there have been some solid players (most notably NBA prospect Jason Smith, a 7-foot junior averaging 16 points, 9 rebounds and about 2 blocks a game), but the last time they got into the dance was 2003, where they miraculously won the Mountain West tournament and then were immediately rewarded by getting to play Duke. Sweet.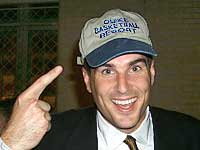 COLORADO (6-13, 2-7 T-Last in Big 12)
: Hey, it's a football school, you know? The Buffs have produced some talent (NBA Finals MVP Chauncey Billups, born-and-bred in Denver, and the Pacers' David Harrison), but Ricardo Patton has had an
up-and-down
tenure, and probably won't last much longer. Although the fact that their
beat-down
of Indiana in the 1997 tourney forced Bob Knight to walk over two miles back to the team hotel
in the rain at 1 a.m.
was pretty freaking sweet.
It seems like Colorado would have the best chance at actually turning their program around, what with all the parties and money in Boulder. But good news for the Rams and Falcons: the last non-BCS school to play for the national championship? Fellow Mountain West school Utah, in 1998. But even then you had Rick Majerus, Andre Miller and Michael Doleac. That's just an ass-kicking trio right there, friends.
So, all in all, when you find yourself in the Centennial State and you want to check out some hoops, head to the Pepsi Center and check out the frantic musings of Allen Iverson, Carmelo Anthony, Marcus Camby and Co. If you have to go to a college game, make sure somebody gets you in for free. And then drink. A lot.
You'll need it.