We here at the Pretzel Factory are proud to present an absolutely absurd look into our idea of what will happen this year in Major League baseball team by team. They are broken down by division and in the order of predicted finish for your enjoyment. Enjoy your preview of the
National League West,
friends!
San Diego Padres:
Does
your
team have brothers hitting at the top of the lineup? Huh? Didn't think so. That reminds me ... "My blood runs cold! My memory has just been sold! My angel is the centerfold, Angel is the centerfold." Wait ... you mean it's the J.
Geils
Band? Not
Giles
, as in rig
htfielder Brian and newly acquired second baseman Marcus? No shit? Damn. Well, whatever. In between tons of hotfoot pranks, violent games of Doorknob and some kick ass Nerf basketball tournaments in the locker room, the brothers will regain their batting stroke and, along with Adrian Gonzalez and Kevin Kouzmanoff (so far the only man in recorded human history to hit the first major league pitch he's ever seen for a grand slam) form a vastly improved offense.
Oh ... you mean they're
still
in Petco?
Never mind then.
At least there's Jake Peavy. And Greg Maddux. And Chris Young. And Trevor Hoffman. And David Wells. Which reminds me ... hey, new skipper Bud Black? You might want to keep some Twinkies and animal crackers around when Boomer's pitching. And some Capri Sun. You might have to help him with those little pointed straws, though. Them's a bitch. Wins: 91. Playoffs: Eliminated in the World Series.
Los Angeles Dodgers:
Can I have one of those Chesterfields now? Thanks. You know, I like to read. About baseball, and the environment - that shit fascinates me. Here's something you may not kno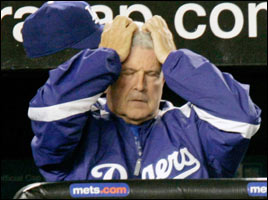 w: With speedsters Rafael Furcal (hopefully not drunk) and Juan Pierre at the top of the order, and very little behind Nomar Garciaparra and Jeff Kent to drive them in, Grady Little will let the little scamps run wild. And oh, boy, will they! They'll do so much runnin' - hahaha, yeah! - they'll do so much runnin' that the friction will heat up the surface temperature of the Earth by one whole degree, causing a catastrophic portion of the polar ice caps to melt. The Pacific will creep up and into Chavez Ravine, and all the Dodger fans will be able to leave in the fifth inning instead of the seventh. Oh, and eggplants. Something about eggplants. Wins: 89 (WC). Playoffs: Eliminated in first round of playoffs.
Arizona Diamondbacks:
Hey, they got
new uniforms!
Sweet! I guess they figured out it's not 1992 anymore a
nd that looking like a walking bruise isn't so cool! Which is funny, because they didn't exist until 1998! I don't know why I keep using exclamation points! Oh, because the Big Unit is back in the National League. Over/under on when he'll either bean a mentally disabled kid in the third row or surgically insert a pair of game-worn spikes up a beat writer's rectum? I'd say June 14. Sounds good, anyway. You know what else sounds good? Having a beer with Eric Byrnes. Seriously, that guy's the
shit
. Wins: 86. No playoffs.
Colorado Rockies:
The Rockies will, for a while at least, continue where they left off last year. Garrett Atkins and Matt Holliday crushing the ball. The starters actually getting some ground balls and giving way to the bullpen to do a pretty damn good job. The humidor keeping the baseballs as moist as Paris Hilton at the NBA All-Star Weekend. But something won't be right ... er, how do I put this?
Ok. Here goes. You ever have Rocky Mountain Oysters? No? Well, th- no, not
real
oysters. Have you ever been to Colorado? Damn. Anyway, to put it lightly, they're ... bull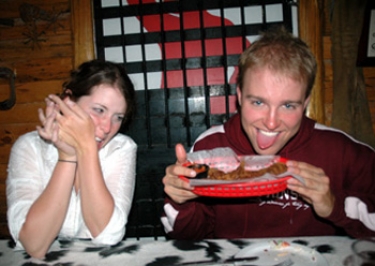 balls. That's right - cow nuts.
I know what you're thinking: "I wouldn't be caught
dead
eating bull's testicles." Yeah, but you thought nobody would ever find out about that thing you do in the shower with the luffa, didn't you? Well, just so happens that during a Super Bowl party when I was about seven or eight, I ate some RMOs. I didn't know it. I didn't ask. I assumed - and later thought, based on the taste - that it was chicken. And when I did, it was decent; a little chewy, perhaps, but edible. But when I found out what it was, I felt sick.
Hence your 2007 Colorado Rockies: the bull's balls of MLB. Wins: 79. No playoffs.
San Francisco Giants:
Barry Zito will wow the San Francisco crowd w- Hey, what's going on?
AHHHH!!! RUN FOR YOUR LIVES! IT'S GROWING! IT'S FILLING EVERY EMPTY SPACE IN THE UNIVERSE! YOUR WEAPONS ARE POWERLESS AGAINST IT!!!
Wins: 0 (Forced to forfeit the entire season when Bonds eats a horse on ESPN's Sunday Night Baseball). No, no, no, no no no no no no no no no playoffs. C'mon.