We here at the Pretzel Factory are proud to present an absolutely absurd look into our idea of what will happen this year in Major League baseball team by team. They are broken down by division and in the order of predicted finish for your enjoyment. Enjoy your preview of the
National League Central,
friends!
Milwaukee Brewers:
Like all Milwaukee teams since the early 80s, the 2007 Brewers will be gut-bustingly average until
this guy
shows up to race as one of the sausages sometime in late July. For a whole week he'll ponder the most difficult choice he's ever encountered in his life: bratwurst, Italian sausage, Polish sausage, hot dog or the newly-roasted chorizo? It won't matter, however, as Prince Fielder will eat them all and grow to a gargantuan 352 lbs. From that point on he'll hit
47 homers and drive in 128 runs. Even better, he'll convince Jeff Suppan (to that point 2-15 with a 6.29 ERA) to quit pitching and instead invest all that unearned money in stem cell research and cloning, so they can grow more Prince Fielders. After beaning Bernie Brewer with a wild warm-up toss and causing him to slide during an opponent's homer, Derrick Turnbow will shave his head in shame and regain his form. Tony Gwynn Jr. will hit .383 and New Era will have to invent a new super-fabric to compensate for Kevin Mench's ever-burgeoning dome. Wins: 89. Playoffs: Eliminated in the NLCS.
Chicago Cubs:
Frustrated with losing yet another ball in either the sun or the swirling winds of Wrigley, Alfonso Soriano will go apeshit crazy in a game against the Diamondbacks. First he'll turn his back during a live pla
y and walk to the wall, where he'll take a huge grumpy on the warning track and smear it all over the Under Armour ads on the doors. With boos reigning down upon him (well, a few cheers - these are
drunks
we're talking about) he'll smile that megawatt smile and begin grazing on the ivy. After the game, Lou Piniella will go on a Lee Elia-like rant in graceful Spanish, at one point calling Jay Mariotti the "dim-witted, mullet-wearing, fascist cum-dumpster son of Artie Lange and Roseanne Barr who couldn't spell Jim Murray if you spotted him 'Jim' and everything else but the two fucking r's." Not knowing Spanish - or, rather, Spanish not knowing
him
- Mariotti will later ask his buddie Ozzie Guillen to translate, and Oz will say, simply, "He called you a fag." Despite this, the team will actually mesh fairly well and lead the division in early September ... until calling up Mark Prior. Forced into a spot start against the Reds because Carlos Zambrano sprained an ankle tripping over first while running out a routine grounder, Prior will be cruising when, in the seventh, Kerry Wood begins warming up. Simultaneously their arms will snap, and the sound will be heard by a farmer in Moldova. Wins: 87. No playoffs.
St. Louis Cardinals:
Look,
shitbirds
, you guys inexplicably won a championship with your worst team of the last four years. Isn't that enough? No? Ok ... Jim Edmonds will make a guest appearance on
2
4
. Jack Bauer will infiltrate a small, ambitious terrorist cell and steal their new prototype biological weapon: a small, Lucite ball with a gelatinous center, which, when dropped or thrown against something, releases a noxious gas that turns every living thing it touches into that gooey mess Stripe turns into at the end of
Gremlins
. After a tense battle in a second-story office, the Lucite ball will fall out the window, and Bauer will scream for somebody to catch it. Edmonds, as a random stranger on the street, will dive and snag it inches from the ground - even though he was standing directly under it and just happened to be watching it fall the whole time. Tony La Russa will visit Edmonds on set, and after two glasses of pinot noir will pass out in the director's chair, about to say "Action!" Wins: 84. No playoffs.
Houston Astros:
Therapist:
So, Brad, tell me what's troubling you.
Brad Lidge:
Well, I ... I can't keep it down.
Therapi
s
t:
Brad, that's really more of a doctor thing. They even say in the commercial, "if symptom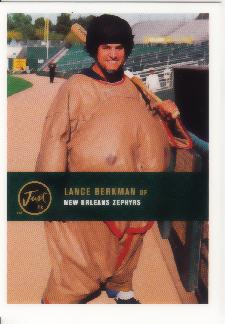 s persist for more than four hours, consult a doctor" or something like that.
Brad
Lidge
:
No, no ... my pitches. I leave everything up. In the zone. I get hit harder than Ron Artest's wife.
Therap
ist:
Where do you think this stems from?
Br
ad
Lidge:
Umm ... it may have started when I gave up this huge home run to Albert Pujols. It was the ...
Therapist:
You know Albert Pujols? I love him! Do you think you could get me his autograph?
Brad Lidge:
[sigh]
Later, in the Astros' spring training clubhouse...
Carlos Lee:
Hey, choo Brad Leedge?
Brad Lidge:
Yeah, Carlos. Nice to meet you. I'm looking forward to playing with you th-
Carlos Lee:
Right, right, yeah. Look, man, Carlos s'gon hit some big muddafuckin' homerons, you see? An' I no want choo coughin' that sheet up. Stop being such a puta maricon and fro dat ball by dose muddafuckin' hitters, man.
Wins: 79. No playoffs.
Cincinnati Reds:
After moving to rightfield, Ken Griffey Jr. will once again regain the stroke that
made him, for about ten years, the best player on the planet. Then, while spooning some rice pilaf onto his plate in his kitchen at home, his hamstring will explode, his femur will snap in half and he'll tear some ligaments in his (non-spooning) wrist. Meanwhile, Al Gore will harness the awesome wind that is Adam Dunn's constant swing-and-misses and power half of Ohio. The most shocking realization, though, will come in mid-May, when Ryan Freel runs head-first into the outfield wall at the Great American Ball Park. While writhing on the ground in pain, Freel will admit that he's been cheating on Farney with Hufflepants, a four-legged clown with the head of a platypus. After the season Bronson Arroyo will hit #86 on the Billboard charts with his song "I Used to Play for the Red Sox, Remember? A Real Team? Do You Remember That?" Wins: 73. No playoffs.
Pittsburgh Pirates:
When Jason Bay goes down early in June with a season-ending ACL injury, the game young Bucs will fight hard. Hard, I say! Jim Tracy will jumble the lineup around, moving Xavier Nady u
p to the fifth hole, etc. But nothing will work. Pittsburgh will go on a nineteen-game losing streak and quickly become the joke of baseball (the Royals will be much relieved). Looking for something - anything - to jump-start his club, Dave Littlefield will make a bold move and cut half the roster to sign the stars of
Pirates of the Caribbean.
At first, the buzz will be overwhelming as even stars who used to play for the team's rival will
appear
in Pirates garb. Jack Sparrow will prove adept at stealing third and pulling the hidden ball trick. Will Turner, despite looking like a goddamn pansy, will have surprising power to all fields. And Elizabeth Swann is just fuckin' smokin', man. But even though they'll go 7-5 in their short stint, the Major League Baseball Players Association will file a grievance, and Bud Selig will cower to it, as usual. Wins: 68. No playoffs.